Is Crypto Mining Still Profitable After Ethereum Ends?
Today, September 15th, 2022, the Ethereum merge was successfully carried out. This also means that the consensus mechanism has now been changed from PoW (Proof-of-Work) to PoS (Proof-of-Stake).
So you can no longer mine Ethereum and all miners are now trying to switch to other cryptocurrencies that still make a little profit, such as ETC, ERGO, Ravencoin, etc.
With the ASIC Ethereum miner machines, however, you can only mine the algorithm ETHash or ETChash. Conversely, this means that all ETH mining machines are either sold or can only be used for Ethereum classic. However, many miner manufacturers already have firmware updates, with which you can also mine the usual coins with some ASIC miners, such as with a graphics card, such as Ravencoin, Ubiq, Expanse, Etho, ETC, Musicoin, Calisto, etc. Let's see, with which ASIC miners this will be possible in the future.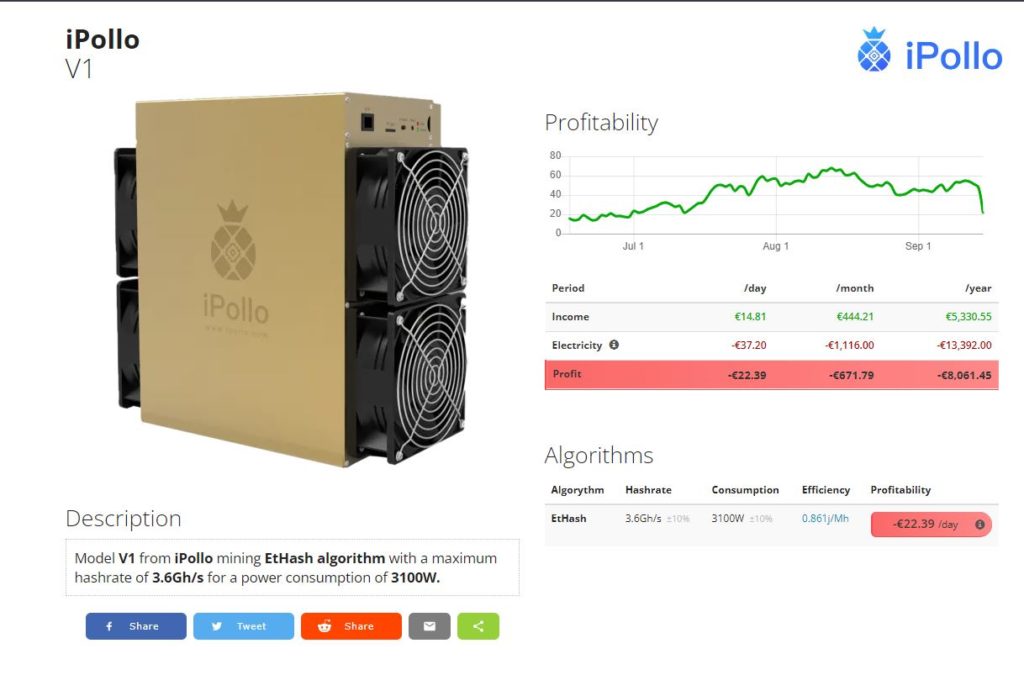 The most powerful Ethereum Miner iPollo V1 can make a good profit with a full 3600 Mh/s at "only" 3100 watts. Before the merger, an annual profit of 28,000 euros was possible. Now it's only €5,300...

My electricity costs have been adjusted to the current market with 0.50 euros. This made the iPollo V1 absolutely unprofitable. Just like every miner….
So which coin to mine after Ethereum?
That's a little hard to say now. Bitcoin miners are currently producing too little hashrate for the current difficulty and have too many watts, considering that 0.50 cents for electricity is the normal price.
Ethereum? Has experienced a mining death.
I am a miner myself and have been there for a year now. What did I start with? Ethereum was the most profitable at the time. But since I didn't see a future for Ethereum at the time, I had to figure out which coin could be second best. I'm finally up Kadena gestoßen.
Kadena? I hope you've heard of this before? There are many sources, especially Youtubers who are very happy to provide information about Kadena at the moment.

The Youtuber created it with a lot of love @Ryan Matta before his Kadena presentations. That's a little insider tip. You'll really learn a lot about Kadena there, if you're curious :)
Bitmain Antminer KA3 with a whopping 166 Th/s at only 3154w !!
Kadena is now the only cryptocurrency that is still relatively profitable to mine. I started with the KD5 from Goldshell, a KD box and now also a KD Lite.
But there is something new...
He is only called "THE BEAST". Who are we talking about? Bitmain's Antminer KA3, released this month, of course. It is the ultimate weapon of the new crypto industry.
This miner outperforms everyone and has no competition at all. At the moment it has only been published.
When will the KA3 be sold? According to the manufacturer, it will go on sale in December 2022.

Even with the incredibly high electricity prices averaging 0.50 cents, it is still profitable and that's a miracle, isn't it? The name "The Beast" hardly does it justice. Why? I'll show you now.

Goldshell and iBelink are the leading manufacturers of the Kadena algorithm. The strongest miners that have also just been released for 3 months are:

Goldshell KD Max 40 Th/s with 3200w (June 2022)
iBelink BM-K1 Max 32 Th/s with 3200W (June 2022)

This makes you, hard to believe, the strongest Kadena miners in the world!
And now? Now the largest ASIC miner manufacturer in the world, Bitmain, suddenly comes along and says we'll just release our first Kadena miner with just 166 Th/s and the same power consumption of 3154W.
Simply absolutely unbelievable... He also has a whopping price for that. The Bitmain Antminer KA3 166 TH/s costs a flat rate of €30,000.
Of course, the price can change before the release or the miner itself can still be changed/modified, as we already know from Goldshell's KD6. It was pushed again 1 week before the sale from 26 Th/s to 29.2 Th/s.
Register at Coinbase and earn money for free
Bei Übersetzt ein Konto erstellen und direkt Bitcoin und andere Kryptowährungen Handeln und kostenlose Token im Earn Programm dazu bekommen!
Please note:
Trading cryptocurrencies poses a high risk to your capital. Trading cryptocurrencies is in your own interest. In my articles I report on my own experiences and only give help to act.
Acting is therefore at your own risk.
10 % Rabatt auf alle Upgrade!